Hair loss is a big problem for every people who are affecting it. The effects of hair loss and thinning on self-image and self-esteem have been well documented, and with promises of thick, long locks, and hair restoration, it's no wonder many people are spending at least $176 million annually for these "miracle-in-a-bottle" supplement pills in a bid for healthy hair. However, there is no conclusive evidence these products actually work. Below we discuss the vitamins for hair growth…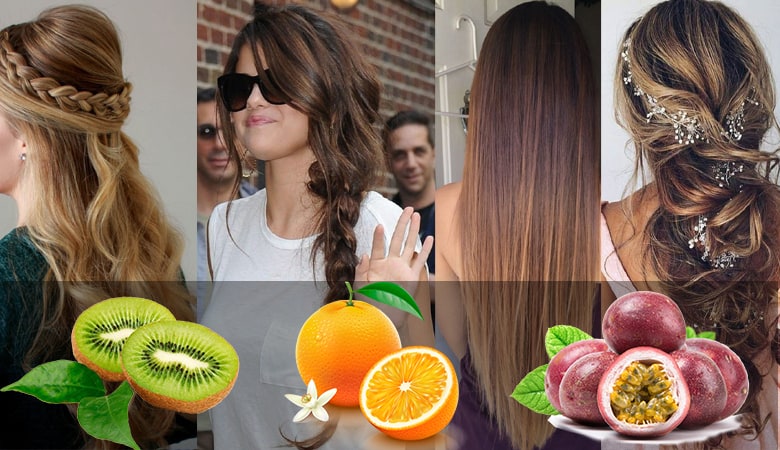 Most hair supplements contain more or less the same ingredients: Vitamin C, Biotin, Vitamin B3, and Vitamin A, all of which have been shown to be essential for hair growth. These elements are also essential for the body to function as efficiently as it can, and many of them can be found in a variety of foods and beverages. These vitamins have been shown to be essential vitamins for hair growth. To maintain shiny, healthy hair and provide the nutrients your hair needs, maintain a balanced diet with these top vitamins for hair growth. These vitamins work to promote healthy hair and your longest, thickest and fastest possible hair growth. 10 Shampoos For Hair Growth And Hair Loss That Actually Work For Men & Women
Let's talk about the vitamins which are helpful to the growth of your hair.
10 Vitamins For Hair Growth

01. Vitamin A
Foods Rich in Vitamin A
Sweet potatoes

Carrots

Liver

Egg yolk

Milk

Spinach

Dried apricots

Mangoes
02. Vitamin B
What Foods Are High In Vitamin B
Eggs

Cheese

Whey powder

Milk

Yogurt

Grains

vegetables
03. Vitamin C
Vitamin C Rich Foods
Lemon

Oranges

Broccoli

Kale

Brussels

Sprouts

Papayas

Strawberries

Kiwi

Red Bell Papers

Guava

Mandarin

Grapefruit
04. Vitamin D
Foods High In Vitamin D
Fatty fish (like salmon and tuna),

Eggs

Mushrooms

Milk
05. Vitamin E
Vitamin E Rich Foods
Almonds

Fish

Peanuts

Cooked spinach

Sunflower seeds

Dried herbs
06. Niacin
Foods High In Niacin
Chicken breast

Tuna

Avocados

Mushrooms

Turkey
07. Biotin
Foods Rich in Biotin
Mushrooms

Avocados

Eggs

Salmon

Peanut butter

Yeast

Cauliflower

Raspberries

Bananas

Walnuts

Almonds
08. Iron
What Foods Are High In Iron?
Red meat

Poultry

Eggs

Spinach

Raisins

Apricots
09. Fish oil
What Fish Are you need for making fish oil
Mackerel
Tuna
Salmon
Anchovy
Sardines
Herring
Trout
10. Zinc
What Foods Are High In Zinc?
Oysters
Nuts
Eggs
Chickpeas
Sweet potatoes
Spinach
Other Tips For Hair Growth:
On average, human hair grows about six inches every year. Loading up on the 11 vitamins and minerals I mentioned above will help your hair reach that length. Some other things you can do to support healthy hair growth include:
Stop using heat on your hair (hair dryers and straighteners)

Don't wash your hair every day

Get regular haircuts to prevent split ends
Herbs And Foods For Hair Growth
Rosemary
Rosemary oil [1] has a reputation for stimulating hair growth and has been used for centuries by many cultures for this very purpose. Many people using rosemary oil in an attempt to prevent baldness and hair loss. Say bye bye to all your hair stresses with rosemary oil.  It implants new life to diminishing hair, gives you thicker bolts, and helps treat dandruff. Moreover, this basic oil has additionally been found to fortify hair development and treat alopecia.
Main Key Advantage of rosemary for Hair
Increase in new hair growth.
Can increase in microcirculation of the scalp, which promotes healing.
Can improve the ability of hair to resist traction.
Decrease in the hair loss after bathing.
Aloe vera
Aloe vera[1] is an amazing tree that is now a day frequently used in the field of cosmetology. Though there are various indications for its use, controlled trials are needed to determine its real efficacy. The Aloe vera plant [1]has been known and used for centuries for its health, beauty, medicinal, hair care and skin care properties.
Main Key Advantage of  Aloe Vera
Repairs dead skin cells on the scalp.
Keep your hair all smooth and shiny.
Can prevent itching on the scalp.
Its antifungal substances kill the fungi on our scalps and remove all the bad odor therefor grow hair firstly.
One of the best amazing benefits of Aloe vera, it can reduce dandruff.
Aloe vera helps restore the pH balance of your hair.
Why Stops Hair Growth? [1]
Lack of vitamins. Make sure and maintain a healthy diet.
Sometimes, your hair growth can be stopped according to your parents' genes.
Imbalance of hormones. Because hormones act an important role in hair growth.
Stress can be the reasons. Bad mood and tension can have a direct impact on hair growth.
Scalp and skin diseases are the reasons. an unhealthy scalp can cause inflammation and makes it difficult for hair to grow. As psoriasis, eczema.
Bleaching, showering, brushing, and roughly handling your hair can be the reasons. Handling hair softly.
Rapidly trimming or cutting stimulates hair growth.
Using too much hair products and did not clean properly the good reasons.
Hair breakage is a common problem due to improper nutrition, heat treatments and pollution that makes hair thinner and prone to breakage.
At the certain age, your hair can't grow. The production of oil in the scalp also begins to slow down and due to this.
Types of Hair Loss
Androgenetic Alopecia
Male Pattern Hair Loss
Female Pattern Hair Loss
Telogen Effluvium
Anagen Effluvium
Alopecia Areata
Tinea Capitis
Cicatricial Alopecia
Lichen Planopilaris
Discoid Lupus Erythematosus
Folliculitis Decalvans
Dissecting Cellulitis of the Scalp
Frontal Fibrosing Alopecia
Central Centrifugal Cicatricial Alopecia
Hair Shaft Abnormalities
Loose Anagen Syndrome
Trichotillomania
Traction Alopecia [1]
Hypotrichosis
Side Effects:
Related Articles:
Instant Answer For All Types Of Hair Problem