Baby strollers have undoubtedly become the most vital accessory for all parents. They make your life a lot easier, especially if you are planning to take your baby with you while going out. The best thing about these strollers is that they are now available for toddlers, infants, twins, and even triplets. With the availability of a wide range of baby strollers, parents now have plenty of options to choose from. Not only these baby strollers are affordable but they allow you to carry out your errands and all day to day activities with much ease and comfort. These baby strollers offer great convenience and reliability. All you need to do is to find the stroller that best suits your needs and provide your baby with matchable comfort.
Here is a list of some of our favorite baby strollers by well-renowned brand Peg-Perego…
Top 10 Peg-Perego Stroller For Your Child:
Actually, Purchase the best stroller for your baby will depend on your family's needs with your budget. We see a lot of families choose Peg Perego, because of this brand offers well build quality, smart style and variety of price range according to buyers' demands. And we select a nice list for the people who want to buy a good stroller for his loving kids.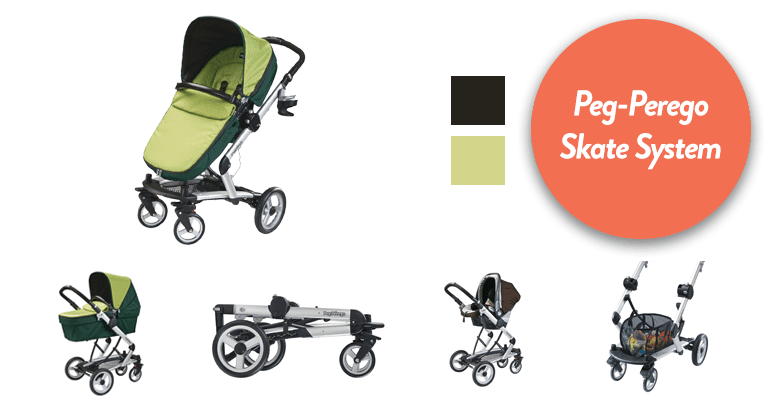 This particular model of the baby stroller from Peg-Perego provides complete comfort, convenience, and safety for the little one. The model incorporates a redesigned skate system that includes skate chassis, skate stroller seat and skate carriage bassinet. The aluminum frame of the stroller weighing about 18 pounds speaks for the high durability and performance of the product. The best part is that the skate chassis can be adjusted to 3 height positions and is highly suitable for traveling.
Important Features and Specifications:
The skate carriage bassinet is very spacious and suitably padded for comfort and safety
The skate carriage bassinet can accommodate up to 19.8 pounds
The bassinet can be tilted to different positions with the help of the push handle and can even set for better outside viewing
It comes with large, removable and collapsible baskets with handles
It can be easily attached to the Primo Viaggio car seat with the help of included adopter
The front wheels feature shock absorption and have ball bearings so that they can be easily locked or swiveled
The bassinet is portable as it has carrying handles
You can open and fold it very easily with or without having the stroller seat attached to it.
Large hood, rain cover, and leg cover boot are amongst the other accessories available with the stroller.
You can Avoid:
It is quite expensive
Not meant for prolonged usage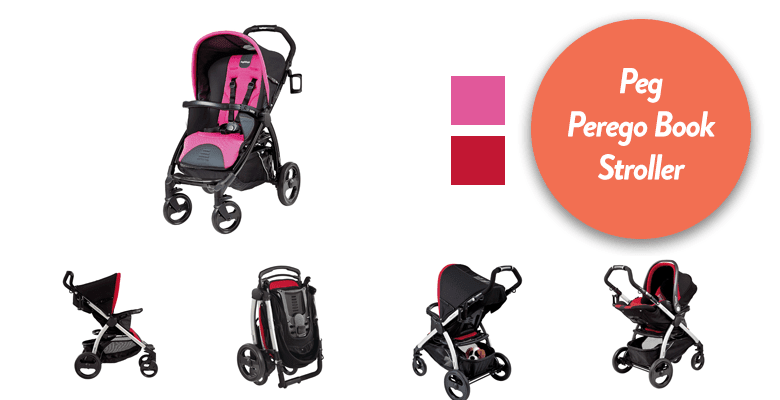 It is yet another best-selling stroller for babies. The overall appearance and designing are ultra-modern to suit the need of on the go parents. It is the combination of innovative features and full proof safety that makes it a perfect choice.
Important Features:
This book stroller has polyester material
It very travels compatible as it can be easily attached to the Primo Viaggio infant car seat with the help of the retractable anchor
Its innovative design makes folding inward possible. It also helps to keep the upholstery clean.
By pulling the handle that is above the basket, you can easily fold it, making it very compact.
The folded book can stand on its own and is extremely easy to be carried along
Suspension and 12 ball bearings in its large wheels facilitate easy maneuvering. It permits 360-degree fast movement as and when required
The front wheels can be easily locked with single-step rear wheel brakes.
Pushing the stroller is made easy and comfortable by the adjustable handlebar that you can adjust as per the height needed.
Comes with spacious and comfortable to load storage basket that can help to carry all necessities
You can Avoid:
The seat might seem to be not sufficiently padded for the little ones
The under the basket is not strong enough to carry heavy things
This side to side book stroller for two from Peg Perego is very compact in design. It is just 29" wide and can comfortably carry two children. This baby stroller can carry up to 45 pounds. It is ideal for both toddlers and infants.
Essential Features of Perego Book for Two Baby Stroller:
It allows both children to be comfortable in their seats with independent and adjustable backrest and footrest.
Compatible to a travel system owing to its capability to hold up to two numbers of Primo Viaggio 4-35 car seats
Adapters are available separately to attach this double seat stroller to car seats.
You can fold the baby stroller with just one hand. Little push is needed to wrap this.
The width of the stroller is ideal to pass through standard-sized doorways
There is an extra-large basket with three pocket dividers to facilities storing different necessities. There are also storage pockets on the back of the seats
It is easy to get children in and out of the stroller with the help of the front bumper
Its Soft Ride wheels enable smooth ride for children with complete safety
There is a large hood covering both the seats with a useful window and ventilation system
You can Avoid:
Might seem to be quiet heavy due to its size while lifting in and out of the car
Adjusting it can be a bit time consuming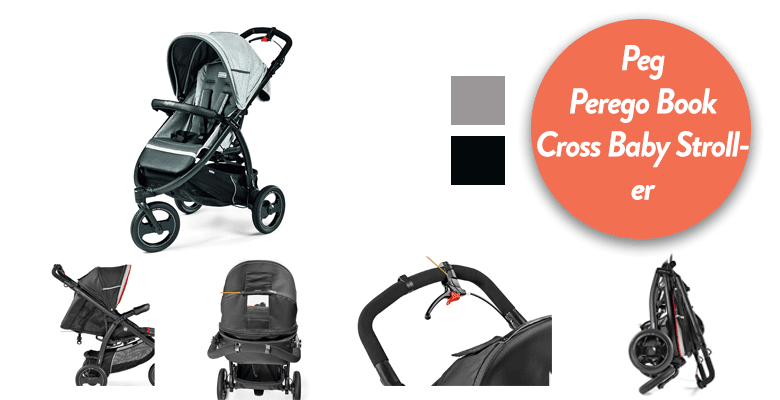 Yet another excellent product from Peg Perego, this Book Cross Baby Stroller, Atmosphere has all that required for the comfort and safety of babies. Parents will love its well thought of features. It is thoughtfully designed and lets your kids travel with such easiness and comfort.
Essential Features of Peg Perego Book Cross Baby Stroller, Atmosphere:
The premium chassis is easily foldable inwards like a book. It is foldable with just one hand.
The stroller has three huge wide-tread wheels. It makes the stroller for all kinds of terrains
As the name suggests, it is very airy with the inclusion of a "peek-a-boo" window in the protective hood
The handlebar comes with a dynamic hand-controlled brake for prompt access to the rear braking system.
The small ones can enjoy smooth and even rides owing to the suspensions and ball bearings in the wheels
There is a remote swivel control knob for the front wheel on the sides of the chassis. It allows secure locking and unlocking of the front wheel
This stroller comes with in-built anchors that help to attach it to Primo Viaggio car seat easily
It uniquely folds inward like a book, thereby keeping the upholstery clean
Once folded, it can stand on its own
There is a large storage basket below the stroller seat to facilitate carrying of different needful things
You can Avoid:
The size of the stroller can cause problem while fitting in a smaller car
It can be challenging to see through the window due to the thick plastic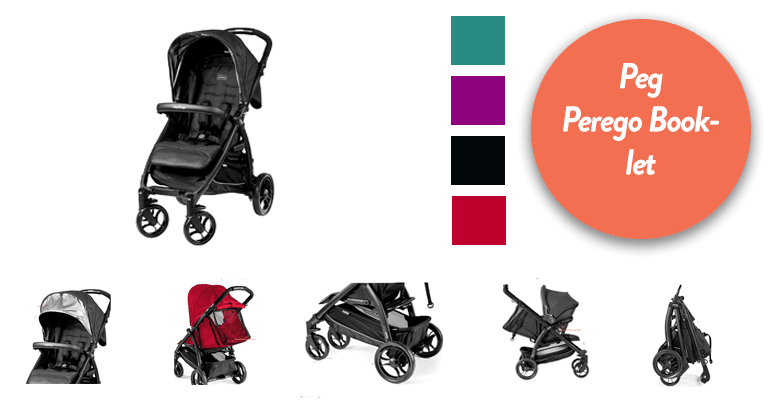 Peg Perego Booklet, Onyx is loved for its lightweight and compact designing. It takes less space for storage and is highly convenient for parents to control and manage it. Your baby will enjoy the comfort it provides, and you will surely be the happiest parent ever for having this fantastic baby booklet stroller.
Essential Features of Peg Perego Booklet, Onyx:
The stroller is built sturdy and durable with lacquered aluminum framed body
The "book-like" fold of the stroller uniquely folds inwardly. Thus the upholstery is kept clean.
After being closed, it needs to support and can stand on its own
The hood helps to protect the little ones for harmful UV rays of the sun by its extendable UV protecting visor.
The bearings and suspension of wheels permit the stroller to navigate through rough terrains easily
It ensures a smooth and comfortable ride for babies
The chassis has an automatic in-built locking system that can keep the stroller closed.
It has in-built anchors to be travel compatible. It can be easily attached to Primo Viaggio 4-35 infant car seat.
The backrest recline can be adjusted to give more space and comfort for infants.
You can Avoid:
The seat a bit smaller when compared to other similar strollers
It is not very easy to unfold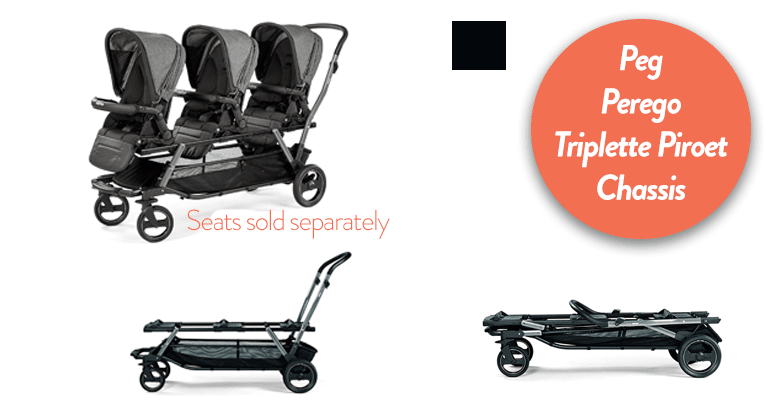 If you have triplets and you are looking for a baby stroller that eases your job, Peg Perego Triplette Piroet Chassis is the best pick for you. The best thing about this stroller is that it has been updated and now comes with streamlined chassis. Also, comfortable team stroller seats. It, allows your children to travel with the utmost comfort in an accommodating stroller.
Essential Features of Peg Perego Triplette Piroet Chassis:
Compatible with the travel system and does not require any adapter
It comes with very spacious and comfortable team stroller seats
It has ball bearings with soft ride wheels and suspension
The stroller is ideal for infants and child of up to 50 pounds
As it comes with a one-piece handlebar that lets you push the stroller with much ease
It allows a smoother ride and offers 360-degree agility
The stroller is foldable and compact that will enable you to secure storage
It is also effortless to carry and weighs only 34 lb.
The sturdy aluminum frame offers excellent durability
It provides superb value for money
You can Avoid:
The size might be a problem in some cases
The price is a little on the higher side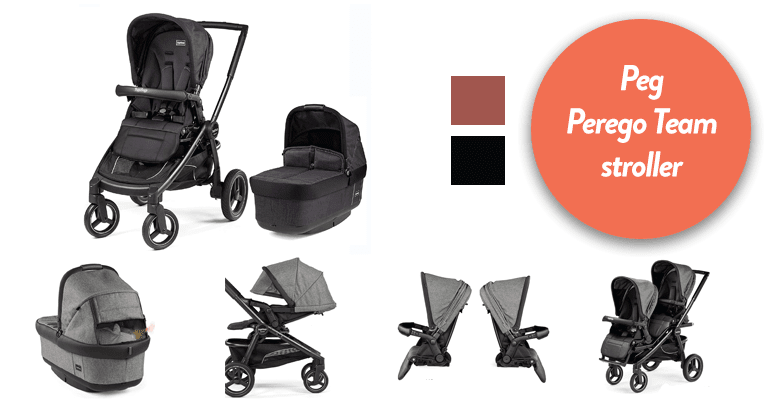 Stylish, comfortable and appealing in looks, this single stroller is all you need to provide your children with the utmost comfort while you take them out. You can turn it into a stroller for two with the teamed adapter, which is available separately. The seats come with comfortable recline and offer fantastic versatility.
Essential features of Peg Perego Team Stroller, Onyx:
This stroller is the right choice for all forward-thinking parents
Manufactured in Italy, it offers premium quality with its sturdy chassis
It has incredible features like polyurethane wheels, folding bassinet, reversible seat, adjustable headrest, etc.
You can turn it into a double stroller by adding the adapter, which you can buy separately.
The innovative design makes it compact and easy to fold, allowing you to store it wherever you want.
The seat can bear a weight of up to 50 pounds.
It comes with adjustable headrest with a large canopy to keep your child safe and secure
It is suitable for infants and children who are up to 45 lb.
You can quickly push it with any of your hand
It has a single touch braking system and a high-quality aluminum frame.
You can Avoid:
The storage basket for this stroller is a little small
Slightly expensive and a little heavier if you compare it with other strollers.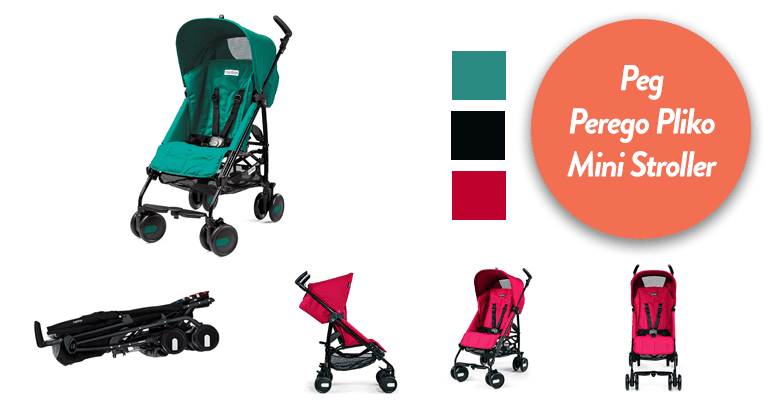 Another compact, reliable and durable baby stroller from Peg Perego, Pliko Mini Stroller is all you need for your little one. Use it for everyday or travel; this thoughtfully designed baby stroller will keep your baby in place with comfort all day long. You can also use this stroller while going shopping with your toddler.
Essential features of Peg Perego Pliko Mini Stroller:
It is exceptionally light in weight which makes them easy to carry wherever you go
The front swivel wheels are lockable and have individual wheel brakes
The fabric is removable, and you can hand wash it
It can take a child with weight up to 45 lb
The stroller has5-point safety harness and three positions reclining seat
The backseat recline can be adjustable up to 150 degrees
It has adjustable leg rests as well as a window with a full hood
It is all in one stroller manufacturer from Italy
With the help of team adapter, it is convertible into a double stroller
Both sibling and main seat are big and spacious enough
You can Avoid:
You might face trouble unfolding it with one hand
Access to storage box is slightly tricky when using in double mode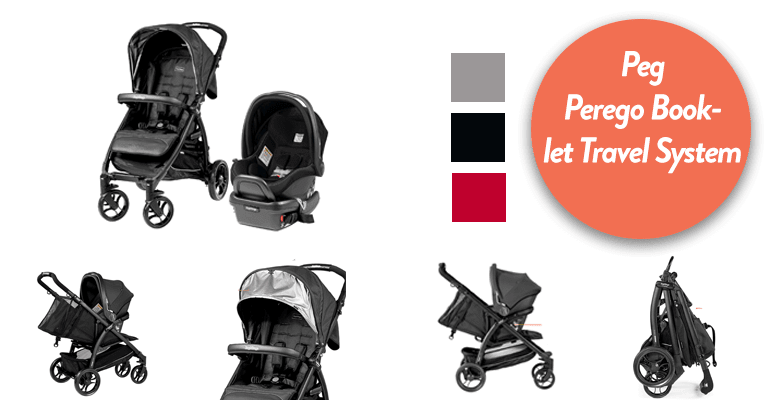 A modern and reliable baby stroller on the list, you will never regret your decision of buying this intriguingly designed booklet stroller. It has a one-of-its-kind book-like folding mechanism that makes it a lot convenient for you to carry it or fold it wherever you want.
Essential features of Peg Perego Booklet Travel System, Onyx:
It is travel system compatible, which means you don't need a teamed adapter for the booklet
You can use it with Primo Viaggio 4-35 infant car seat.
It has a very innovative and modern design that makes it quick and easy to fold.
It comes with 260-degree agility and wheels designed with ball bearings
The backrest is adjustable, and you can set it to get the flat position
You can push the stroller using your single hand
Parents can set the handlebar as per their heights
It is highly durable and sturdy providing perfect movement stability
There is a mesh fixed at the backrest to ensure proper ventilation
It is light in weight and comes with a sun shield
You can Avoid:
Some people might find it a bit expensive
It is not compatible with Graco SnugRid infant car seat
Duette Piroet is a double stroller for twins or siblings. It is incredibly versatile, compact in size, and has independently adjustable seats for two. This stroller allows you to even walk down through the narrowest places without any hassle. It offers impressive specifications and perfect comfort to the children.
Essential Features of Peg Perego Duette Piroet Atmosphere Stroller:
No adapter is required as it is travel system compatible
The leg rests are adjustable letting you set them as per the comfort of your baby
It lets you fix the two car seats with the chassis and is compatible to use with Primo Viaggio car seats.
It comes with a spacious basket that lets you carry all your necessities with ease
Seats are adjustable, and you can set them as you like
Each chair has a leg rest and backrest ensuring premium comfort
It keeps your child safe and secure all day long
The large polyurethane wheels with suspension allow your children to enjoy smooth rides
This stroller will let your children enjoy a reliable journey in style
It is durable enough to hold two bassinets
You can Avoid:
You might find it a slightly heavier in weight
The price is on the higher side
Recommend Post For You: